Gifts of Money
Annual Fund — Donations to the Annual Fund help SERV continue to deliver a high standard of care to the individuals and families who come into our care. It also helps us to bring much needed services to those who cannot pay for care.
Checks may be made payable to The SERV Foundation and mailed to the address above; OR click here.
Scholarship Fund — Donations may be made exclusively to the Scholarship Fund, which provides educational funding for SERV consumers who are pursuing vocational training or a degree in higher education. Often, our consumers have been unable to complete their studies begun earlier in life due to their illness. Now, able to take on a course of study, they are often unable to finance such a pursuit.
SERV expects to award at least $20,000 a year in scholarship money to its consumers throughout our ten-county service area. Since the Scholarship Fund's inception in 2004, the Foundation has granted more than $310,000. Our evaluations show that 79% of our scholarship recipients successfully completed their classes and that the median GPA, since we began keeping track of such statistics (2009), is 3.177. Some recipients have gone on to earn bachelor's or master's degrees and have attained employment; others have learned a new trade, such as barbering, cosmetology or auto mechanics. Click here.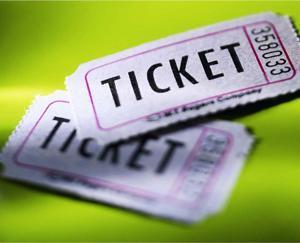 Purchase Cash Raffle tickets — In January, the SERV Foundation begins the sale of tickets for the Super Cash Raffle, which is drawn during the annual Volley For SERV Tennis Tournament in June. With a goal of $25,000, tickets are 1 for $50 or 3 for $100. First-prize winner receives 40% of the amount raised; second-prize winner receives 10% of amount raised.
Sponsor a SERV Fundraiser or Project — Small businesses and large corporations are invited to sponsor any one of The SERV Foundation's fundraising events and projects.
One way is to support SERV's major fundraising event, the annual Volley For SERV Tennis Tournament. Businesses may choose among a variety of sponsorship levels, which include ads in the program journal, banners displayed around the main tennis court, court signs with their company's logo, tennis team(s) sponsorship, and more. For more information, contact

This email address is being protected from spambots. You need JavaScript enabled to view it.

Advertise in the SERV Art Calendar – In November, SERV distributes an Art Calendar featuring the winning works of consumers who entered an art contest. One thousand copies are distributed to individual and corporate donors throughout New Jersey. The calendar also includes SERV's Annual Report. Businesses may submit a full-color ad for a very reasonable fee. For more information, contact

This email address is being protected from spambots. You need JavaScript enabled to view it.
Donate Your Vehicle

Buying a new car? Getting rid of an old one? SERV Behavioral Health System, Inc. has teamed up with Donate For Charity so you can easily donate your automobile, boat, RV or other vehicle as a way to help support our cause. Donate For Charity will arrange for your vehicle – whether it is running or not -- to be picked up anywhere in the United States free of charge. Also, you can get a tax deduction if you itemize your federal tax return. We certainly appreciate our donors considering this option.
To find out more about this program, click here
Employee Giving
Many companies have matching gift programs that will double or even triple charitable contributions made by their employees. Find out if your company will match gifts to The SERV Foundation.
Gifts of Goods or Services
SERV accepts donations of goods or services that help us in furthering our mission. Donations that have helped in the past include everything from printing and design services to holiday gifts for consumers. If you wish to make this type of donation to SERV Behavioral Health System, please complete, print and sign the In-Kind Gift Form. Your signed In-Kind Gift form may be faxed to (609) 771-9728 or mailed to The SERV Foundation, 20 Scotch Road, 3rd Floor, Ewing, NJ 08628. Please see our Gift Acceptance Policy and Donor Privacy Policy.
Stock Donations
The SERV Foundation also accepts stock donations. You may designate funds for a specific project, such as a new roof for a group home, or special programs or scholarships for SERV consumers. Please check with your tax advisor for possible tax advantages of stock donations.
Bequests and Other Planned Gifts
Bequests and Planned Gifts are gifts that you designate to SERV from your estate. While there are several ways to make a Planned Gift, the easiest method is through a Bequest. This can be done simply by adding a few lines (or a codicil) to your current will.
Click here for Bequest Language
Donor Bill of Rights
Association of Fundraising Professionals (AFP), all rights reserved. Reprinted with permission from the Association of Fundraising Professionals.