He can cite the countless jobs, positions and hobbies he says he has experienced in his 61 years: an Army paratrooper in Vietnam, a softball and baseball umpire, a scuba diver, a lifeguard, a horticulturist, a hunter.
And now, because of the few years he spent as a firefighter in West Paterson, Ronald Pitak can add one more to his "Jack-of-all-trades" list – inventor.
Ronald, a consumer with SERV Centers Passaic County, is the brains behind The Pitak, a helmet designed for firefighters or miners that has a visor and a molded holder with a replaceable filter that covers the mouth and nose for added protection from smoke and particulate inhalation while on the job.
"When I was a fireman, I was often a smoke inhalation victim," Ronald says. His device, with a flame-resistant filter, is designed to trap soot while also absorbing hazardous gases, giving a firefighter without the preferred air-pac the crucial extra minutes needed to remain with a fire.
"I had (the helmet) in mind for a long time and didn't know how to go about it. So, I went through some books, looked at (existing) masks, and then designed The Pitak. He patented his idea and the helmet is now in the hands of Advent Product Development.
According to a colorful brochure printed by ADP in Pawley's Island, S.C., "The Pitak could greatly reduce exposure to carbon monoxide, hydrogen cyanide and other noxious chemicals associated with smoke and fire." The helmet with the replaceable filter could not only be used by firefighters and miners, but could "be most useful during helicopter rescues, keeping out the dust, dirt and sand." A couple of companies have shown interest in manufacturing the helmet, Ronald says. To view the full brochure and pictures, visit (www.adventproduct.net/23356/default.htm).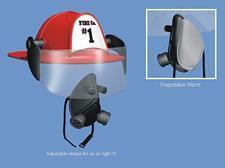 An illustration of Ron Pitak's invention, The Pitak helmet for firefighters and miners, appears in a brochure from Advent Product Development. (Click for larger image.)"I've got lots of ideas for inventions," Ronald says. "I wouldn't have gotten them if I didn't have a job," referring to the stimulation he gets while searching for more efficient ways to accomplish tasks.
Ronald has not one job, but two. He has been a part-time maintenance worker for SERV Centers Passaic County for nearly two years, doing jobs such as painting, carpentry and installing window air conditioners. He also is a team leader and supervises consumers packing boxes at the Foundation for the Handicapped in Wayne. And, thanks to Ronald, more than a dozen SERV consumers have found jobs over the years at the Foundation.
Ronald has been with SERV since 2001, when he transferred from Greystone Park Psychiatric Hospital in Parsippany, where he was diagnosed with schizophrenia with a mood disorder – or schizoaffective disorder. Stabilized on medication, Ron was able to move directly into SERV's 24-hour supervised group home in Wayne. He later graduated through SERV's residential program to a shared apartment with supervision in Paterson, and then to an apartment he shares with two roommates in Wayne, where he has lived for the last five years.
"Ron is a very social guy," says Kara Fitzpatrick, his Residential Program Manager at SERV. "One of his greatest strengths is that he is a good friend to his peers. He shows his new roommates the ropes, lends a helping hand, and has pizza parties for other SERV residents in his apartment complex. He's the glue that holds everybody together. Ron is such an asset to our residential program."
Under the Recovery and Wellness model at SERV, Ron steers his own recovery by establishing his goals and gets the support he needs along the way by SERV staff. "The right dosage of medication always plays a part in recovery, but having the family atmosphere we have here at SERV is what gives him the support," Kara says. "I think Ron feels cared for here, with the support of staff and peers. He has been able to build confidence, gain employment and be more independent."
Ronald was one of six consumers who received a Consumer Recovery and Wellness Award during SERV's annual Recovery NJ Conference, held May 16, 2009 at the Hyatt Regency New Brunswick. The free daylong event is for SERV consumers with mental illness and/or developmental disabilities in SERV's eight-county service area and their families.
Recovery accomplishments for the award include, but are not limited to, hope, education/employment, personal responsibility, personal growth, health related, and self-advocacy. For Ronald's nomination, Kim DeRosa, Director of SERV Centers Passaic, wrote: Ron has been SERV's maintenance worker for a couple of years. He initially applied for the position when it became available, but did not pass the physical. He immediately quit smoking and started taking care of himself. He eventually got the job and is fantastic at it. … He socializes with all the residents in his apartment complex and is considered the 'mayor of the town.' He cooks, cleans and maintains our facilities. Ronald lives by the Recovery and Wellness model every day."
"I like SERV a lot," Ronald says. "I've got an incentive to get up in the morning – to go to work, make some money, and to help my niece through college.
"I like the way (the staff) operates … they always listen and come up with an answer. I wouldn't change any of it," he says, adding that he'd like to nominate Kara for a Staff of the Month award. "She's excellent."