Brownie troop donates cookies to SERV's healthcare heroes
Details

August 14, 2020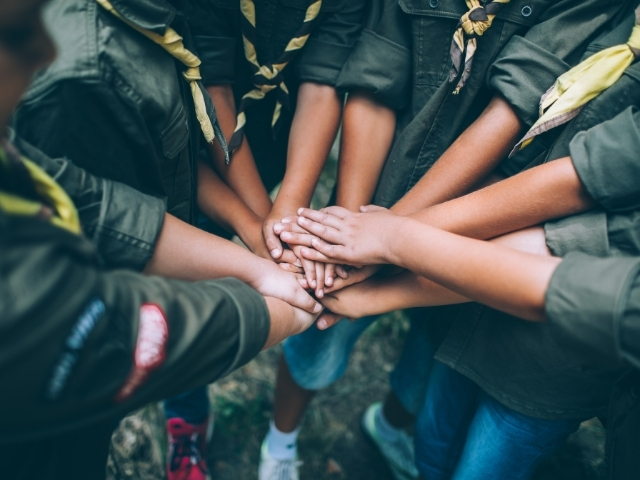 Although Brownie Troop 60284 had to suspend their in-person activities and events to prevent the spread of COVID-19, they still wanted to help their community and thank the heroes on the frontlines of the pandemic.
So, last week, the troop donated more than 60 boxes of Girl Scout cookies to the essential workers of SERV Behavioral Health System, Inc. in Mercer County.
SERV Residential Program Manager Sara Gardiner, also Girl Scout Leader of Troop 60284, led the effort, along with her eight-year-old daughter Adrianna and Co-Leaders Tracy Edwards, Blythe Aguayo, and Susu Garcia.
"Although SERV's essential workers are in the healthcare community, behavioral health often gets overlooked," said Gardiner. "As the Girl Scout Leader, I wanted to use this opportunity to thank SERV's staff for their hard work and selfless efforts during the pandemic.
"I also wanted to teach the girls how it's just as important to take care of our mental health as our physical health," she added. "I shared with them the stories of SERV's heroes on the frontlines and helped them recognize that you don't need to be a doctor to save lives."
Troop 60284 consists of 20 second graders, referred to as "Brownies," according to Gardiner. While they function as an independent troop, they are also part of an expansive family troop of more than 100 girls of various ages.
Troop 60284 has worked hard to stay engaged and active in Girl Scouting during the pandemic. In addition to SERV, they've also made donations to a number of local EMS and fire departments. In previous years, the troop has donated to the New Jersey Veterans Memorial Home at Menlo Park and the Bristol-Myers Squibb Children's Hospital.
After last week's donation, Gardiner said she received an outpouring of gratitude from SERV employees.
In an email to Gardiner, Kelly Rufe, the Director of SERV Centers in Mercer County, wrote, "I want to sincerely thank you and your daughter's entire Girl Scout Troop for thinking of SERV Mercer and donating cookies to the county. Given these difficult times, it is gestures like these that truly make our days brighter."
The Girl Scouts' mission is to build girls of courage, confidence, and character who make the world a better place. Clearly, the Brownies of Troop 60284 encompass these values, and SERV thanks them for thinking of our heroes during this uncertain time.