SERV Centers of New Jersey recently received the 2018 Mohammad Shafiq Award from the New Jersey Psychiatric Rehabilitation Association during NJPRA's 38th Fall Conference.
This prestigious award, recognizing SERV's excellence in the practice and provision of psychiatric rehabilitation services in New Jersey, was presented to SERV President/CEO Regina Widdows by NJPRA Board President Anthony Lucibello on Nov. 15 at The Pines Manor in Edison.
SERV Centers of New Jersey is a division of SERV Behavioral Health System and under the leadership of Chief Operating Officer Pauline Simms.
The Shafiq Award was presented before hundreds of individuals from mental health agencies within the state of New Jersey. In accepting the award, Ms. Widdows said, "Pauline Simms and I share this award with all of our dedicated team members in SERV's 11-county region whose unwavering commitment to mental health makes us so proud."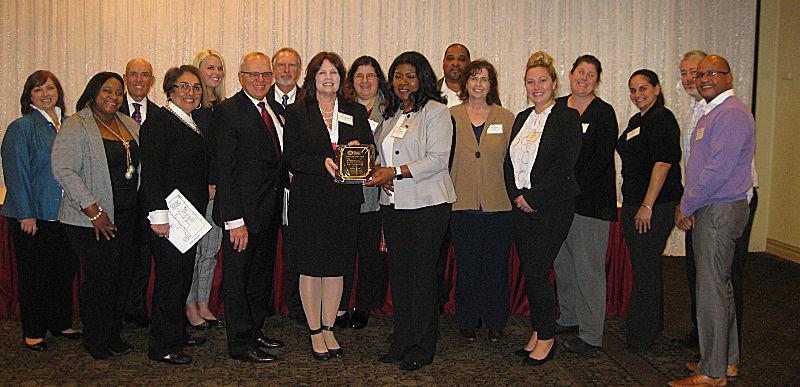 SERV President/CEO Regina Widdows, center left, and SERV Centers Chief Operating Officer Pauline Simms, center right, hold the Mohammad Shafiq Award. SERV staff and board members were in attendance during the presentation of the NJPRA award.
Award nominations were based on many criteria, including a commitment to evidence-based and best psychiatric rehabilitation practices and services that incorporate the principles of person-centered recovery, such as hope, dignity, and empowerment.