Recovery is sheer poetry
Details

March 01, 2009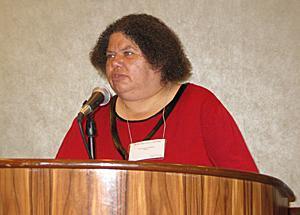 Shanna-Rae M. loves to write poetry.
"Give me a subject and five minutes and I could come up with one," says Shanna-Rae, 47, a consumer with SERV Centers Passaic County. In fact, her thoughts flow like a river current when she is writing about SERV and recovery or penning a tribute to SERV-Passaic Director Kim DeRosa "to make her feel special."
There is hope and encouragement
In every word you speak
You have become
A champion for the weak
Shanna-Rae, who has had over 30 hospitalizations since 1977 before coming to SERV in February 2006 through Greystone Park Psychiatric Hospital, is recovering from bipolar disorder and addiction and has borderline personality disorder. She also engaged in self-injurious behavior (cutting), saying it made her "feel alive" and relieved emotional pain.