Volley For SERV raises $36,400 for special programs
Details

July 09, 2014
For 24 years, tennis players from Mercer County and beyond have hit the courts to support The SERV Foundation's annual Volley For SERV Tennis Tournament.
This year, 72 players participated in five doubles divisions and a singles pro exhibition at one of the most exclusive venues around, the Cherry Valley Country Club in Skillman.
These players and additional reception guests helped raise $36,400 to support SERV consumers throughout the state who are recovering from severe mental illness and/or coping with developmental disabilities. Funds raised will finance the Scholarship Fund for consumers, the annual Recovery NJ Conference for consumers and their families, as well as other projects of the Foundation.
For more than half a year, the Foundation staff worked with the Volley For SERV (VFS) Tennis Committee to plan and execute this time-honored event. Committee members included Chairman Ted Golfinopoulos, Andre Caldini, Ivan Punchatz and Richard Anderson, all of whom are SERV board members; and Beth Silverman-Bauman, Beth Deitchman, Gwen Guidice, Ann LoPrinzi, Bill Rue Jr., Barry Szaferman and Rick White.
During the tournament on June 16, participants played under sunny skies until late afternoon, when the finals were held on the main court. Officiated by Brad Werner of Pennsbury Racquet & Athletic Club of Morrisville, Pa., the finals proved to be exciting matches in each division.
Just as guests were arriving for the evening reception, pro players Ilia Shatashvili and Felix Matthys were battling it out, as spectators enjoyed cocktails and hors d'oeuvres from above the main court where they were playing. Shatashvili won the exhibition match.
The evening reception at Volley For SERV delivers more than exquisite food, live entertainment, silent and live auctions, and the cash raffle. It also is a time when SERV invites a consumer to be the guest speaker and presents special awards to individuals who have helped to support the mission of SERV.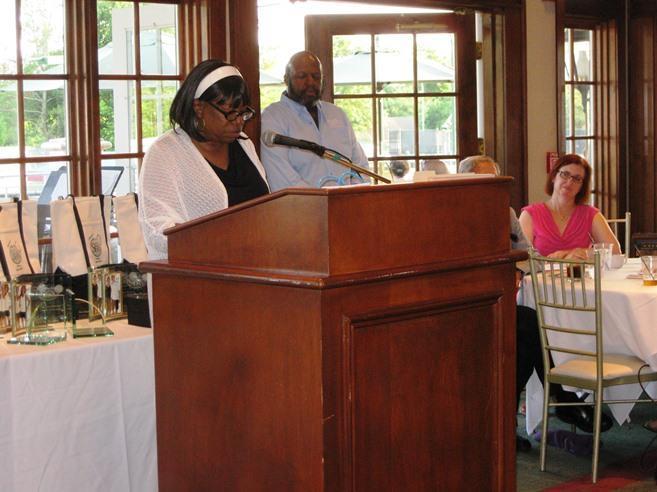 Bettie K., a consumer with SERV Centers-Central Region (Union), was the guest speaker during the reception at Volley For SERV. After an introduction by SERV CEO/President Gary van Nostrand, Bettie K., a consumer from SERV Centers' Central Region (Union County) since 2013, spoke eloquently about her recovery and thanked donors for supporting the Scholarship Fund. "After a few months with SERV, I felt more in control of my life and I decided it was time to go back to school and finish what I started, (but) I worried about how I would pay for school," she said. Receiving two scholarships, she said, "helped me pay for tuition, books, transportation and other college-related expenses and it helped me to gain the confidence in myself that I needed to compete with other college students. It was a blessing and I thank you so much," she said.
Bettie currently attends Berkeley College in Newark. She is working toward an associate's degree in medical billing and coding and is expected to graduate next spring. Bettie was accompanied to the reception by Ebony, one of her three daughters, who smiled and looked on proudly as her mother spoke.
After Bettie's speech, special awards were presented to a longtime board member and a Volley For SERV player.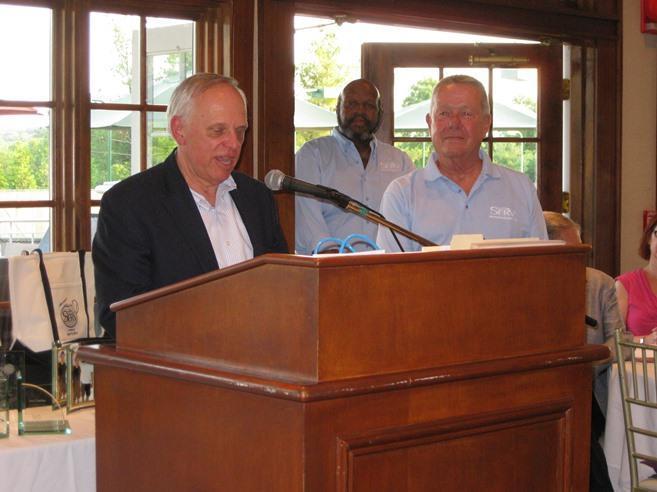 Ivan Punchatz, Esq. makes his acceptance speech after receiving the The SERVice Award from SERV President and CEO Gary van Nostrand for serving 25 years on the boards of SERV.Ivan Punchatz, Esq. received The SERVice Award, an honor presented annually to a past or current SERV board member. This year, Mr. Punchatz, a shareholder with Buchanan, Ingersoll & Rooney, PC in Princeton, marks 25 years of serving on the boards of SERV Behavioral Health System. During this time, he has been chairman of the System Board as well as the SERV Centers of N.J. and SERV Properties & Management boards.
Speaking about his tenure with SERV, Mr. Punchatz said, "During this time, we have been able to grow the SERV Behavioral Health System into the biggest provider of housing services for the mentally ill in the state, expanded our services to represent developmentally disabled, while growing the company approximately nine-fold. Nonetheless, none of this would have been possible without the continued dedication of the SERV clinicians in the community, in all of our settings, group homes, apartments, day programs, and others ... Their commitment has made SERV a success, and I would like to acknowledge and thank them for their wonderful service."
Gwen Guidice, executive director of the Princeton Tennis Program for the past 19 years, received the 4th annual Lou Natale Jr. Players Award. This award acknowledges an individual for continual support of SERV through participation in and sponsorship of Volley For SERV. Ms. Guidice began playing in VFS in the A Division in 1997. She has played in the tournament every year since. She and her tennis partner Louise Gengler-Thomas currently are the reigning champions in the Women's A Division, a title they earned at the last six Volley For SERV tournaments.
"I started playing in Volley for SERV because of my position with the Princeton Tennis Program," said Ms. Guidice, "but over the years I realized that I was playing for a really good cause. I believe in the mission of SERV and I am proud to be a supporter."
In addition to the special awards given, winners and finalists during the daytime tennis tournament received awards, presented by VFS Committee Chairman Ted Golfinopoulos. They were: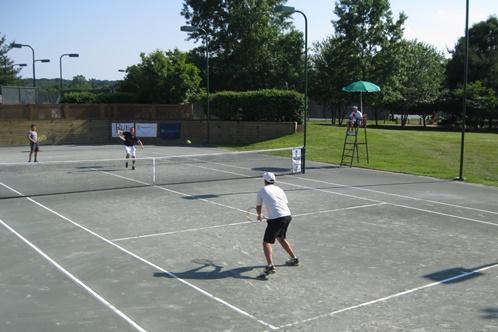 Men's A finals with Sean Lu & Dan Lee (champions) vs. George Benaur & Will DiPietro (finalists).Women's A: Gwen Guidice & Louise Gengler-Thomas (6-time champions); Kim Vine & Kei Imamish (finalists)
Women's B: Debi Foxx & Kristen Wilson (champions); Mandy Holanda & Renee Deardorff (finalists)
Men's A: Sean Lu & Dan Lee (champions); George Benaur & Will DiPietro (finalists)
Men's B: David Kramer & Bob Hiel (champions); David Gordon & Jonathan Amar (finalists)
Mixed B: Sena Hill & Barry Szaferman (champions); Donna & Mark Nagel (finalists)
Pros Singles: Ilia Shatashvili (champion) vs. Felix Mathys (finalist)
One of the most anticipated events of the evening at VFS is the drawing of the Super 50/50 Cash Raffle.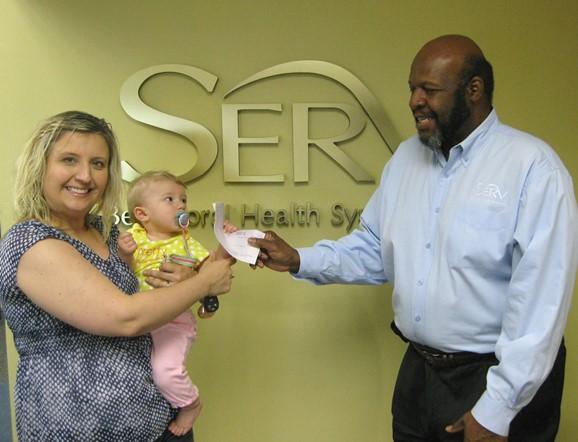 Paulina Hammerschmidt of Yardley, Pa., and her daughter Olivia accept a check for $6,700 from Keith V. Hamilton, SERV VP of Community Relations, after winning first prize in the Super 50/50 Cash Raffle on June 16.Thanks to all our supporters, The SERV Foundation raised $16,750. First-prize winners, Kyle & Paulina Hammerschmidt of Yardley, Pa., won $6,700 (40% of total raised). Second-prize winner was Jeannette Bennett of Trenton, who won $1,675 (10%).
The SERV Foundation would like to thank corporate sponsors, advertisers, area businesses and individuals who donated silent and live auction items, tennis players, guests, committee members and volunteers for their invaluable support in making the 24th annual Volley For SERV Tennis Tournament a tremendous success.