Volley For SERV raises nearly $36K for special programs
Details

July 08, 2015
The 25th annual Volley For SERV Tennis Tournament may have been celebrating its silver anniversary on June 15, but there was no silver lining in the clouds on the morning of The SERV Foundation's major fundraiser at Cherry Valley Country Club in Skillman.
For the first time in many years, the tennis tournament was precariously close to changing to an indoor venue because of threatening thunderstorms, but thanks to a good call by CVCC Tennis Director Keith Pierson who had been watching the weather radar since the early morning hours, the tournament took place as planned.
This year, 58 players participated in Men's, Women's and Mixed A & B doubles divisions, with the Men's B division competing at nearby Bedens Brook Club to allow for more playing time for all divisions. Champions in each division, followed by the finalists are listed below:
WOMEN'S A: Champions Kimberly Vine and Kei Isimishi; Finalists Lisa Brock and Katie Riley
WOMEN'S B: Champions Carol Lipson and Yvonne Boyle; Finalists Mary Beth Mapes and Dawn Snider
MEN'S B: Champions Ted Golfinopoulos and Dave Kramer; Finalists Rich Anderson and Joe Punia
MEN'S A: Champions Ben Branche and Jim Colitsas; Finalists Don Loff and Doug Zelt
MIXED A: Champions Chris Hoeland and Ginny Mason; Finalists Jack Keller and Gwen Guidice
MIXED B: Champions Barry Szaferman and Yvonne Boyle; Finalists Rachel Donington & Don Loff
While the rain held off until after the finals in late afternoon, the downpour came just as our special guest pros were warming up for an exhibition for reception guests. Thanks to a request by Gwen Guidice, Executive Director of the Princeton Tennis Program and a member of the VFS committee, the four pros agreed to perform in late afternoon.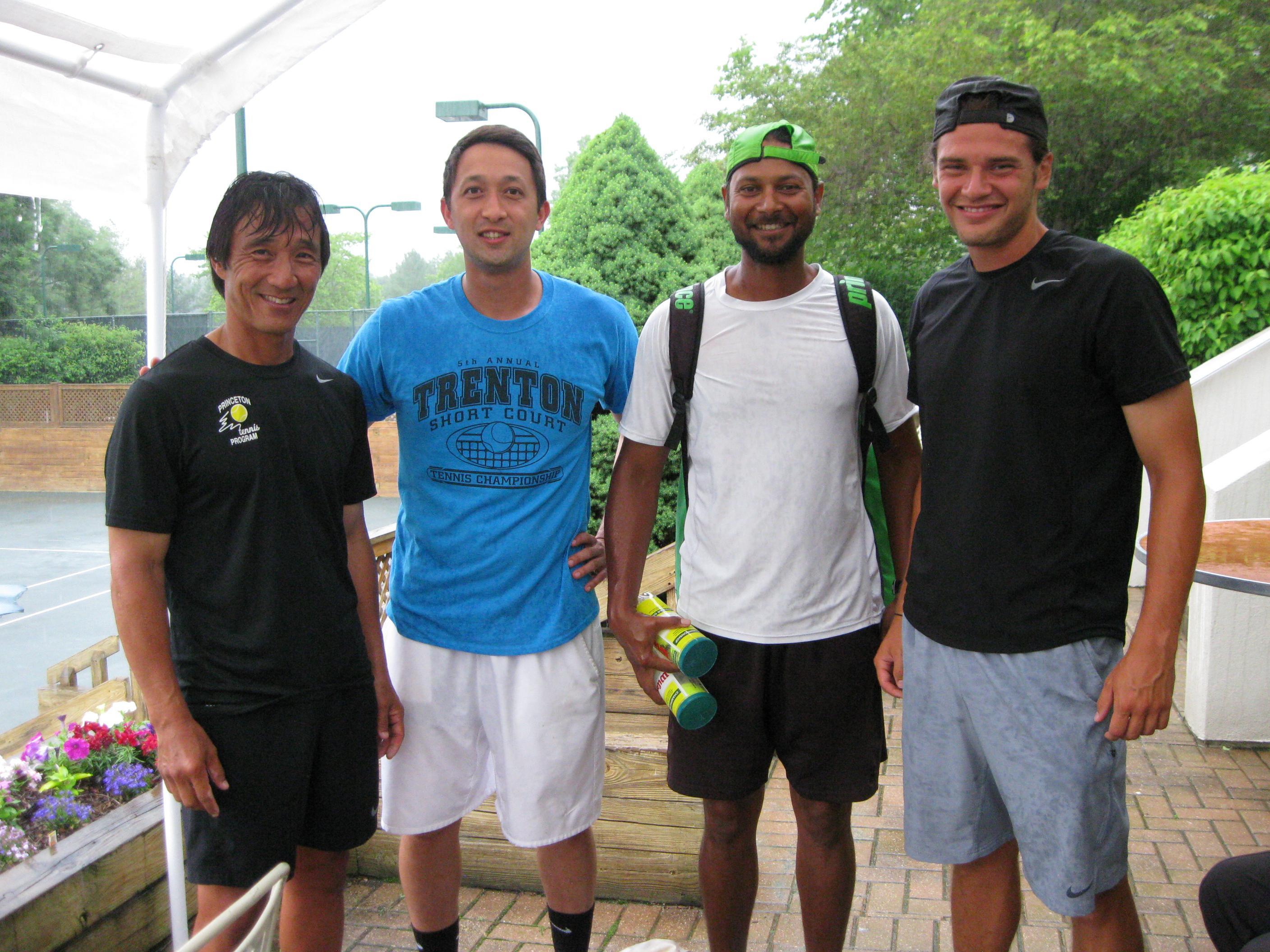 Pros Glenn Michibata, Chris Hoeland, Kaptan Karsolia and Igor Filipovic are drenched after a downpour, which canceled their exhibition match.They included Glenn Michibata, who in his playing career has faced such opponents as Jimmy Connors, Boris Becker, Andre Agassi and Pete Sampras, among others; Kaptan Karsolia, Igor Filipovic and Chris Hoeland. The men were disappointed the match had to be called off, but said they hoped they could come back next year to take part in an exhibition.
All of the tennis players and additional reception guests helped raise $35,895 to support SERV Behavioral Health System consumers throughout the state who are recovering from severe mental illness and/or coping with intellectual and developmental disabilities. Funds raised will finance the Scholarship Fund for consumers, the annual Wellness & Development Conference for consumers and their families, as well as other projects of the SERV Foundation.
For more than half a year, the Foundation staff worked with the Volley For SERV (VFS) Tennis Committee to plan and execute this time-honored event. Committee members included Chairman Ted Golfinopoulos, Andrew Caldini and Richard Anderson, all SERV board members; and Gwen Guidice, Sena Hill, Ann LoPrinzi, John Schragger, Beth Silverman-Bauman, Charles Villano, Jr. and Rick White. Members helped to secure corporate sponsorships, procure silent auction items, encourage area tennis players to participate, and made their own personal contributions.
The evening reception took place this year in the CVCC Golf Center rather than the Tennis Center to accommodate the 150 guests who showed up to support SERV's two honorees, Alice Hecht Giedekier, who received the 4th Annual SERVice Award, and Ted Golfinopoulos, who received the 5th annual Lou Natale Jr. Players Award.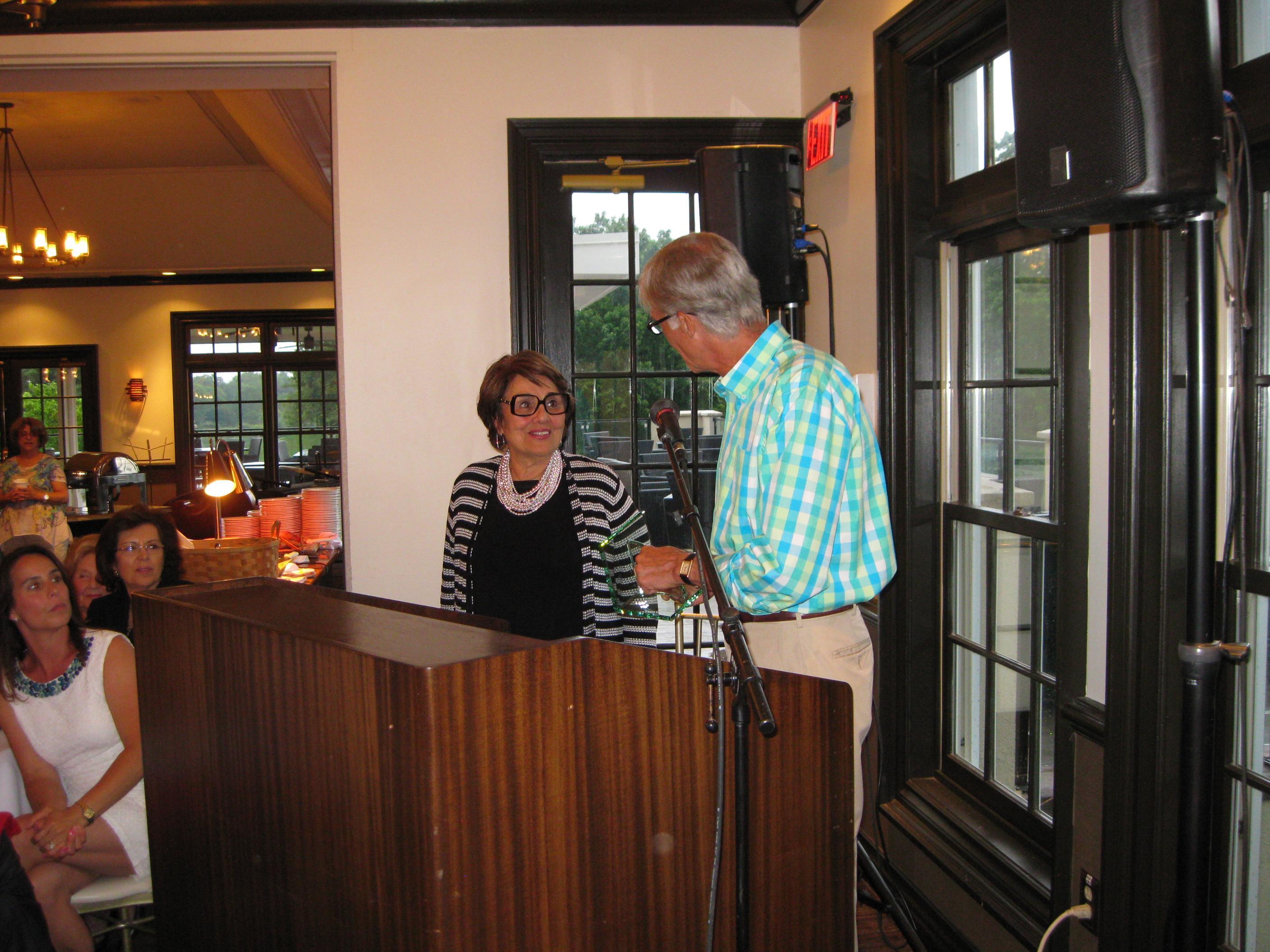 Alice Hecht Giedekier accepts the SERVice Award from Chairman of the Board Richard Anderson.The SERVice Award was presented by Chairman of the Board Richard Anderson to Ms. Giedekier in appreciation for her 13 years of dedication and leadership as a board member at SERV. Ms. Giedekier, a First Vice President of Investments for Wells Fargo Advisors in Wayne, N.J., is a member of the Board of Directors of SERV Centers of New Jersey, for which she served as past chairperson. She also serves on the Board of Directors and the Finance Committee of SERV Behavioral Health System, Inc. In addition, she has led the popular "Money Matters" workshop multiple times at SERV's annual "Wellness & Development Conference."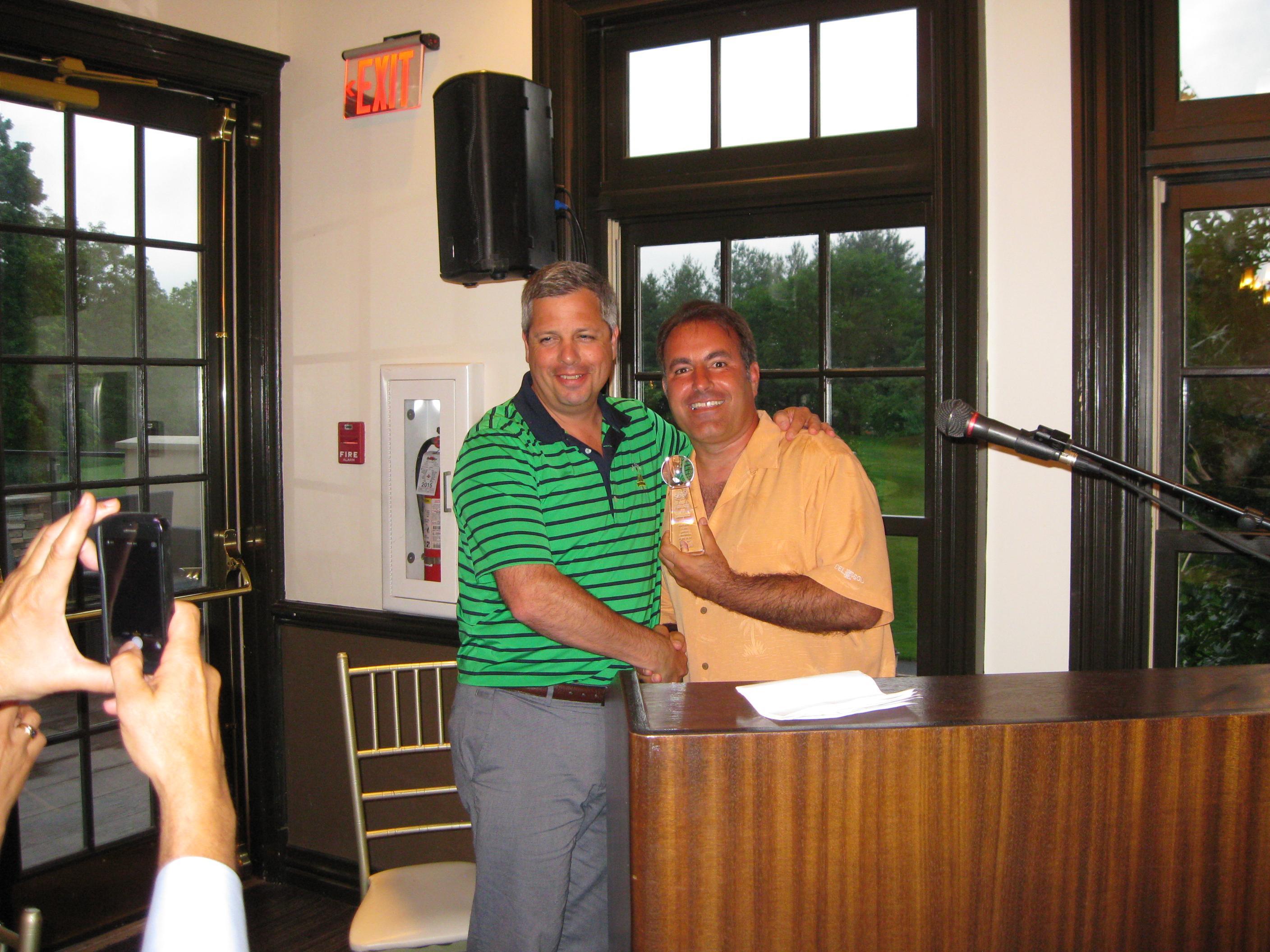 Ted Golfinopoulos accepts the Natale Players Award from Chris Natale.The Natale Award was presented to Mr. Golfinopoulos by Chris Natale, son of Lou Natale Jr., for whom the award is named. He acknowledged Mr. Golfinopoulos for the 18 years he participated as a player at Volley For SERV and for his generous sponsorship of the event each year. An avid tennis player, Mr. Golfinopoulos has chaired the VFS Committee multiple times and, through his real estate company TG & Associates in Pennington, has sponsored the event each year. He also serves as secretary of The SERV Foundation Board of Directors.
The Volley For SERV reception delivers more than awards presentations, exquisite food, live entertainment, silent and live auctions, and the Super 50/50 Cash Raffle. It also is a time when SERV invites a consumer to be the guest speaker.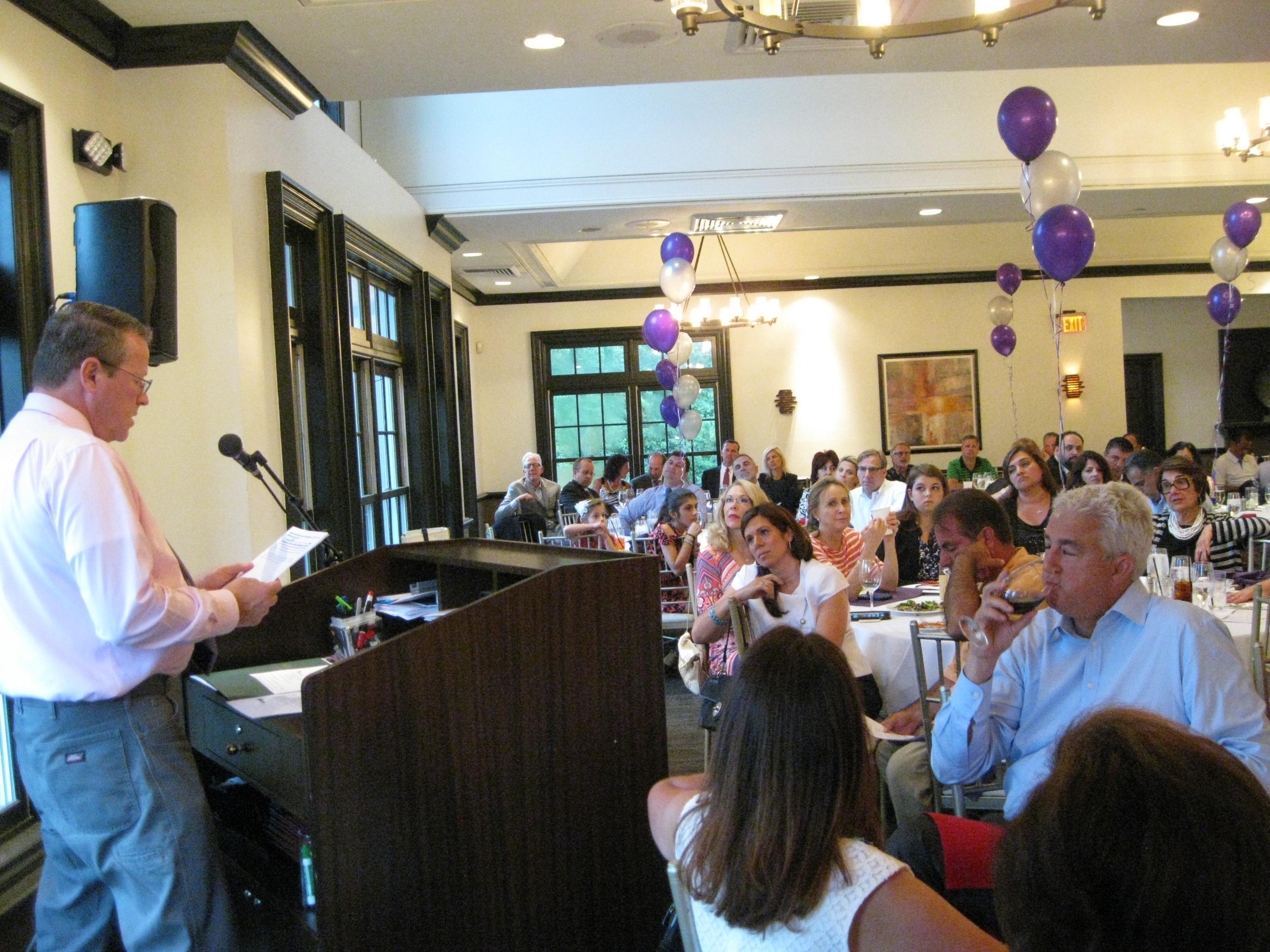 SERV Centers of NJ consumer Ernie R. of Passaic County speaks to the audience during the evening reception.Ernie R., a resident from SERV Centers' Northern Region (Passaic County) who joined SERV in 2002, shared his personal story of recovery from mental illness and thanked donors for contributing to the SERV Foundation Scholarship Fund. Because of the 12 scholarships he has received from the Foundation, Ernie earned bachelor's degrees in both elementary education and studio art from William Paterson University. He now is a substitute teacher in Passaic County, teaching a wide variety of subjects to students in Pre-K to 12th grade.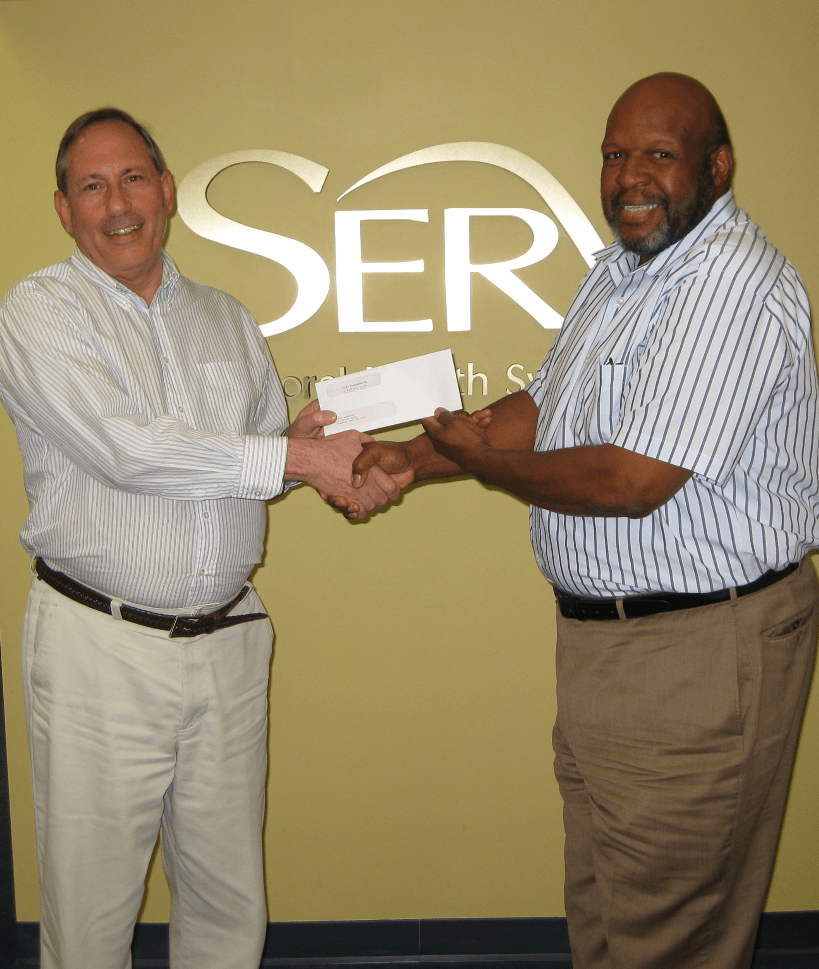 SERV employee Jim Zanzucchi, left, was the first-prize winner in the Super 50/50 Cash Raffle. He accepts a check for $6,380 from Keith V. Hamilton, VP of Community Relations.One of the most anticipated events of the evening at VFS is the drawing of the Super 50/50 Cash Raffle. Thanks to all our supporters, The SERV Foundation raised $15,950 in the Super 50/50 Cash Raffle. The winners were:
1st prize: Jim Zanzucchi, $6,380 (40% of total raised)
2nd prize: John Maret, $1,595 (10% of total raised)
As is the case with all fundraisers, volunteers play a crucial role in the success of the event. This year's volunteers were Icelene Barksdale, Betty Birch, Jess Haring, Janeta Jackson, Allie Jones, Faye Josephson, LaLanya King, Colleen Kolakowski, Paul Miller, Andre Parsons, Chris Sales, Rena Sandomir, Lisa Sherotski, Pauline Simms, Fran Tagner and Marilyn Ticktin.
The SERV Foundation would like to thank corporate sponsors, advertisers, area businesses and individuals who donated auction items, tennis players, guests, committee members and volunteers for their invaluable support in making the 25th annual Volley For SERV Tennis Tournament a tremendous success.