A shave and a haircut costs much more than the two bits (25 cents) required in the old days, but Wayne L. offers a relatively better bargain in 2009.
A resident at SERV's transitional Serenity House in Mercer County for men recovering from mental illness and substance abuse, Wayne is honing his barbering skills on fellow consumers at the group home for a mere $5, while also working toward his license.
Before Wayne started classes at the Tri-State Barber School in Philadelphia more than a year ago, he exhibited a natural talent for cutting hair. With encouragement and support from his primary counselor Edward Mitchell and Residential Program Manager Milena Margolin, Wayne, age 44, enrolled in the school and has earned high grades since. "I aced my last written test," says Wayne, who has been diagnosed with paranoid schizophrenia.
His imminent diploma is just one of the accomplishments he can add to the "success list" he started to keep when he joined SERV Behavioral Health System two years ago after transferring from Trenton Psychiatric Hospital. "We showed him that he could build on his successes … and learn lessons from his mistakes," says Milena. "We told him that if he can succeed one time, then that means that he can succeed again."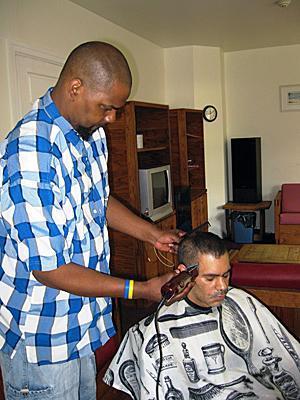 Using tools he bought with funds from the SERV Foundation, Wayne gives a haircut to fellow SERV consumer, Carlos, at the Serenity House in Mercer County.That advice – plus what he learned in the self-esteem and other groups he attended at SERV's ADAPT partial-care program – boosted his confidence level and Wayne took the next step to apply to barber school. He received tuition money from the state Division of Vocational Rehabilitation and nearly $3,000 from the nonprofit SERV Foundation for the cost of barbering tools and public transportation to downtown Philadelphia.
The first time Wayne made the trek to center city, he was accompanied by Edward to show him how to make the transfer from the bus, which passes by Serenity House, to the Trenton train station, and then the five-block walk to school. Since then, Wayne has independently taken this same trip every week, Mondays through Fridays, and every other weekend on Saturdays when he works at the school earning tips from customers.
"I finally found something I love doing," says Wayne, who plans to search for a job in the field after he receives his diploma in September.
Getting his barber's license is the means by which he seeks to fulfill his other dreams: moving into SERV's independent apartments at the Leonard Building; getting a stable job so he can eventually marry his girlfriend of two years, Elaine; and reconnecting with his teenage children, Heaven and Laquan.
The success Wayne has had at barber school has given him confidence, says Milena. "From his painful past, he has worked to change his pessimistic attitude to an optimistic one," she says. "He also knows that if he doesn't take his medications, he can hear voices, lose touch with reality, or not be able to stop his own behaviors or actions."
Wayne grew up in Camden as the middle child in a family of five children, all of whom have mental illness. His mother also has schizophrenia and is in a state psychiatric hospital. It was in grade school when he began to hear voices that told him to hurt himself and others. In later years, he attempted suicide several times and spent some time in a correctional institution.
When he was released, he went to the Salvation Army in Trenton, but he had stopped taking his medicine and felt confused and stressed out, and the voices were "out of control." He then entered Trenton Psychiatric Hospital and eventually became stable on the proper medication.
Since transferring to SERV two years ago, he has been psychiatrically stable and committed to staying abstinent from alcohol. He attends self-help group meetings three to four times a week and has been sober for 3½ years. "I know there is a God," he says. "Things have gotten a whole lot better."
Wayne recently bought three suits so he can start attending area church services. He is interested in finding a spiritual community and, to that end, plans to visit churches of different denominations.
Another of his goals was to reunite with his daughter, Heaven, but he didn't know how to begin the process. Milena and Edward began to prepare him for this goal and encouraged him to make phone calls. When he confided that he could not afford to bring his daughter a birthday gift, Milena helped him get a hand-crafted medallion and chain. "He was thrilled to meet his daughter," says Milena.
"She's a good girl," Wayne says with a smile. "She goes to church, and she works part time for the Boys and Girls Club in Camden."
Before meeting Heaven, Wayne says he felt "empty and incomplete." "I'm her dad, and I want to be the best I can be for her." Today, they talk several times a week on the phone and he visits with her every other weekend by taking the Riverline train to her home in Camden, where she lives with her grandmother. Reuniting with his son is still a goal to be met, but in the meantime, he continues to send child support payments for both children.
In his spare time, Wayne loves to listen to R&B music and watch old movies, particularly Westerns, with his girlfriend. He has managed to take 12 pounds off his 6' 3" frame by exercising and following a nutritional program introduced by Edward.
Wayne is a role model for all the other residents at Serenity House, says Milena. "He has inspired the other residents to go to school. One is taking entertainment technology, another studying with an electrician's union, and another is going to a music school," she says. "We have a real friendship here."
"SERV helped me to try to find myself and has been a very good inspiration in my life," says Wayne. "Ed Mitchell is magnificent. He guides me and shows he really cares."