Honorees announced for 23rd annual Volley For SERV
Details

February 19, 2013
Ted Golfinopoulos, chairman of the 23rd annual Volley For SERV Tennis Tournament, has announced the honorees for the 2013 fundraiser, which is sponsored by the nonprofit SERV Foundation of SERV Behavioral Health System, Inc.
"For the two awards to be given at Volley For SERV, the Committee has selected Don Loff and Jack Fein, two well-deserving gentlemen, and I couldn't be more pleased," he said.
Jack H. Fein will receive The SERVice Award, presented to a SERV board member in appreciation of demonstrated leadership and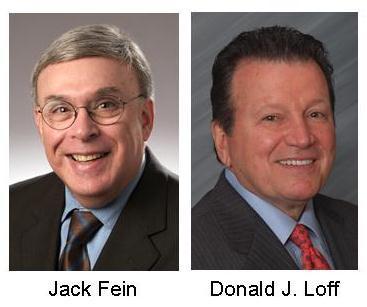 commitment to the mission of SERV. Mr. Fein, who has been a SERV board member since 1999, is treasurer of the SERV Behavioral Health System, Inc. Board of Directors. He also is on the Finance Committee for SBHS.
Mr. Fein (CPA, CGFM, PSA) has been a member of the accounting and management consulting firm of Mercadien, P.C., Certified Public Accountants for more than 40 years. As a principal of Mercadien, he works with more than 85 nonprofit organizations.
A resident of Holland, Pa., Mr. Fein serves as treasurer of the Committee on Religious Ministries at The University Medical Center at Princeton, is a member of the advisory board of RomAsia Bank, and is assistant treasurer of The Rotary Club of Princeton Foundation. He serves on the advisory board of Rutgers MACCY Program in Governmental Accounting. In addition, Mr. Fein is publisher and editor-in-chief of the Nonprofit Examiner, a nationally syndicated publication.
He is a founding member of Shir Ami Bucks County Jewish Congregation, where he was on the board and executive committee, and served as treasurer for more than 10 years.
Donald J. Loff will be presented with the 3rd annual Lou Natale Jr. Players Award, which acknowledges an individual for continual support of SERV through participation in and sponsorship of Volley For SERV (VFS).
Mr. Loff, a resident of Raritan Township near Ringoes, N.J., has competed in nearly all of the previous 22 VFS tennis tournaments and has been a longtime supporter of SERV in its fundraising efforts. He also served on the VFS Committee in years past.
A Senior Vice President for Investments at Merrill Lynch, Mr. Loff has more than 34 years of financial services experience. He works in developing investment strategies, asset allocation, portfolio monitoring and overall wealth management for high net worth clients and institutions.
In addition to being an avid tennis player, Mr. Loff enjoys fishing, hiking and riding his Quarter Horses.
Both honorees will be feted during the evening reception at the 23rd annual Volley For SERV Tennis Tournament on June 17 at Cherry Valley Country Club in Skillman.
For tickets or sponsorship opportunities, click here.